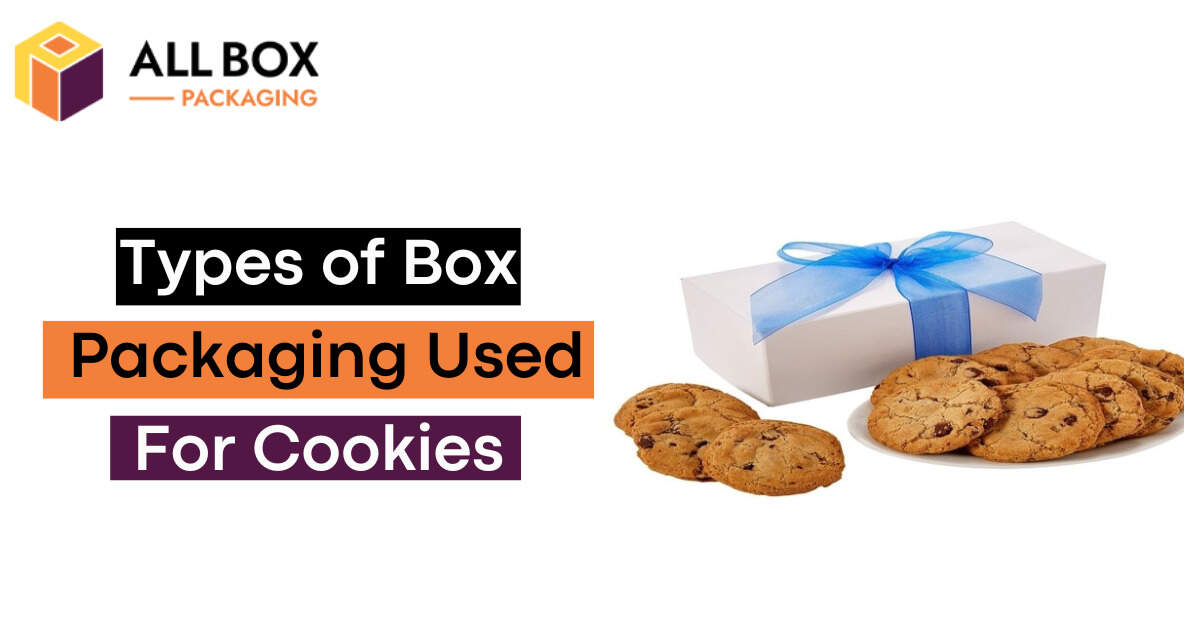 The packing of cookie boxes is an essential component of the cookie industry. The box packaging used for cookie boxes guards against contamination, breakage, and other damage. By doing this, cookies are sure to reach their destination both intact and in good condition.
Cookies are the most loved items of all types of all ages people and they love to eat cookies any time of the day. Most of the time cookies are served with tea or you may gift the cookies to your loved ones for any type of occasion. Whenever you visit any bakery to buy cookies, you probably see different types in it and you select the most delicious cookies for your use. You may also bake them at home to eat them with your family and friends.
If you think of gifting the cookies to someone on any type of occasion, you probably usually buy elegantly made cookie boxes from the bakery. In which you can pack them and these boxes can enhance the beauty of your cookies by all means. There are also different shapes and styles of cookie boxes available in the market as well. You may also get them as per your choice if you want to gift them to any particular person or any special occasion.
Types of cookie box packaging
Cookie boxes with windows
Businesses that want to display their products frequently choose cookie boxes with windows. Customers can view the cookies inside the box through the window without having to open them, which can be an excellent way to persuade them to buy. There are a variety of different designs of cookie boxes with windows available. Some boxes have a tiny window on the front, whereas some have a large window that covers the full front. Cookies of all forms, including sugar cookies, oatmeal raisin cookies, and chocolate chip cookies, can be packaged in these boxes.
Cookie boxes with dividers
A great way to keep cookies protected and arranged for shipping or storage is to use cookie boxes with dividers. The dividers can be used to divide different types of cookies and assist in keeping cookies from breaking or crumbling. Custom cookie box packaging with dividers is offered in a wide range of designs. The dividers in some boxes are made of cardboard, whereas those in other packages are made of plastic or metal.
Cookie boxes with handles
The best way to package and move cookies is in cookie boxes with handles. They are a well-liked option for gifts as well. Cookie boxes with handles are an ideal option if you're looking for a way to make your cookie packing more practical and stylish. They are both useful and fashionable, and they can help you leave a positive impression on your customers.
Here are a few examples of cookie boxes with handles:
Gable boxes
A handle is located at the top of gable boxes, which is usual for cookie boxes. They come in a range of colors and sizes, and you may customize them with ribbons, stickers, or other things.
Tote boxes
Tote boxes are simple to carry because they have handles on both sides. They are an excellent choice for cookies that are too fragile to be stacked or for cookies that need to be packaged in large quantities.
Window boxes: 
The top of the window boxes has a transparent plastic window through which the cookies can be seen. They are a great way to display your cookies and a good choice for protecting delicate sweets during packaging.
Commercial packaging for cookies
Commercial cookie packaging is made to protect, preserve, and advertise cookies. Flexible packaging and rigid packaging are the two main categories for commercial cookie packaging.
Flexible packaging 
Materials that can be bent and folded, such as plastic, paper, and foil, are used to create flexible packaging. It is the most common kind of cookie packing because it is convenient and affordable.
Rigid packaging
Materials that are rigid and cannot be folded or bent, such as cardboard, metal, and glass, are used to create rigid packaging. Although it is less common than flexible packaging for cookies, it might be an excellent choice for cookies that require more protection or for cookies being given as gifts.
Impressively designed cookie box packaging
Moreover, we will discuss some important points regarding these impressively designed and made cookie boxes wholesale on your demand.
Stylish in design and shape
No doubt these cookie boxes are most elegantly designed and made and you may also get them manufactured as per your desire. If you want to order these boxes, then you will surely get the option to select the design and shape as per your desire. 
Use custom printing
You may design box packaging that is specific to your brand with custom printing. For printing the logo and your company name on the boxes, you can select the font style as well which will complete the process with the digital printing which will never get dull throughout life.
Very cost-effective cookie boxes
These cookie boxes are very cost effective and they are easily available in the market. You may also get the vast variety in these cookie boxes as well. These manufacturers will provide you with the complete shipment at your doorstep without charging any hidden amount from you. You may get the cheapest.
Customized in shape cookie boxes
When you order these cookie boxes, you will probably get the option to select the size and shape of your desire. This could be the most efficient option to avail and you can make them more stylish and unique. You can make them more elegant and stylish by creating your imagination in the shape of these cookie boxes.
Easily carry anywhere
The best thing about these cookie boxes is that you can easily carry them anywhere without any hesitation. You can gift these cookie boxes to anyone at any type of occasion for instance at weddings, birthday parties, to gift somebody, and much more. These boxes are extraordinarily beautiful in look and elegantly designed boxes.
Sustainability
Consumers are increasingly looking for green packaging options. When creating the box packaging for your cookies, think about going green. Additionally, you can use your packaging to inform customers about your environmental efforts.
Functionality
The cookie box packaging must be simple to open and close, providing the cookies with suitable protection. You might also want to think about using shipping-friendly packaging if you sell cookies online.
Material used for cookie boxes
Cardboard and paperboard are the materials that are most frequently used to make cookie boxes. These materials are lightweight, inexpensive, sturdy, and long-lasting. They are a sustainable option for packing because they are also recyclable.
Kraft paper cookie boxes
: 
Paper that is manufactured from recycled wood pulp is known as kraft paper. It looks rustic and is a warm natural brown color. Cookies with a handcrafted or artisanal appearance are sometimes packaged on paper made from kraft.
Cardboard cookie boxes
:
The most popular material for cookie box packaging is cardboard. It is affordable, recyclable, and simple to customize with printing and artwork. There are many different cardboard box thicknesses available, ranging from thin paperboard to sturdy corrugated cardboard.
When selecting a material for your cookie box packing, take into account the following factors:
Your choice of cookies

: Some cookies, such as delicate cookies with fillings, may need stronger packing to keep them from breaking.

The number of cookies you are packaging

: To prevent the packaging from breaking when you are packaging a lot of cookies, you might want to use a more sturdy material.

The packaging's intended use is to

: You might want to use a material that is simple to stack and transport if you plan to sell cookies in stores. If you're delivering cookies as gifts, you might want to go with something more luxurious.

Your budgeting plan

: Depending on the material you select, packaging costs will change. Metal and glass are the most expensive options, while cardboard and kraft are the most cost-effective.
Most probably if you are running the business of selling cookie boxes, then you may also get an advantage by selling the most impressively made cookie boxes for your use as well. If you really want to increase your profit in a better way, then you may order these boxes to get manufactured by any reputed company around you. You may also make impressively made cookie boxes as per the modern trend.